Review: Signal Park Rocker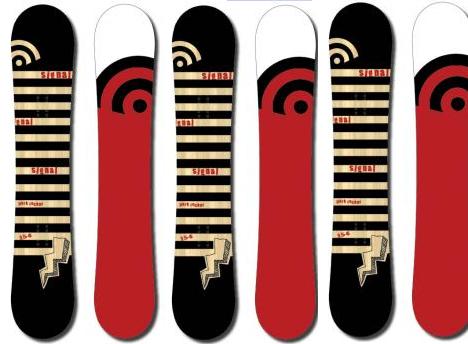 So here it is – one of this seasons most talked about boards: the Park Rocker from Signal Snowboards. You might remember our earlier posts about choosing rocker board. When only reading reviews as well as forum discussions about the different boards it was really hard to tell which one would be the "best". But after trying the Skate Banana, Burton Hero and the Park rocker we must say that differences are big, but maybe not as we expected them.
The skate Banana is of course an excellent all mountain board. No mather what the sale persons at your local store might tell you (I was told that this was a jibb board only, more or less impossible to take outside of the park). But what about the Park Rocker? It´s got some hard comments about the softness and the extreme rocker.
Snowboard: Signal Park Rocker 156
Setup: Flux Super Titan bindings & 32 Leashed boots
Conditions: Only natural conditions: snow, groomers and over half meter of pow.
The park Rocker felt like no other board I´ve ridden. It´s extremly light and fun. It took only a few seconds to adjust to the rocker. The edges are extremly good, and the board has so far never failed me when holding an edge. This good grip I have only had with the Riders Choice mtx and Skate Banana btx.
The amazing thing is that it handles everything I tried it on, except too high speed. And it´s needed to say that due to the less contact (due to the rocker) makes the board a bit instable at high speeds but also a bit slower on transport runs.
Extreme rocker & super softness – no problems!
Sure the Park Rocker is soft. It´s even super soft, but it still feels very stable. Though I think that you might need to step up a siza because of the rocker. The SKate Banana 156 rides more like a 58 – but when it comes to the Park Rocker it´s more like the other way around.
Rocker, reversed camber – what´s the deal?
The rocker is so fun. It makes the board playful in all conditions and performs extremly well in pow. I rode it in half a meter of pow and was amazed by how good it floated. Actually I tried mounted the bindings way back and rode the board more like a ordinary freeride board. And it worked realy well!
Of course the rocker makes all kinds of tricking much easier. You can toss this board around like no other one. One thing I noticed was that it can be a bit tricky to land your tricks with your bindings mounted way back. Because of the rocker you need to adjust your landing. It´s quite easy to put your pressure to far back and then you´re gonna fall over. But on tghe other hand the rocker makes this board great for all sort of presses and other nice tricks.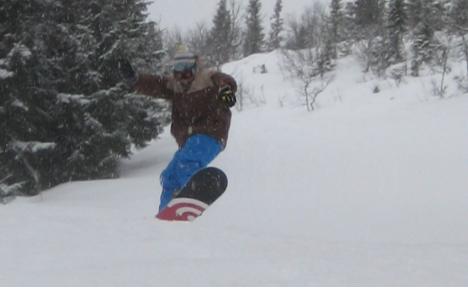 I would recomend this board to everyone who wants a playful and fun board. Maybe it´s not the ideal board it you only wants to have one board (then the Skate Banana is a beter choice). But if you want a second board that still handles anything the Park Rocker is your choice. Did I mention that the pricing is really good?
If you live in Europe you can try to get the board from Swedish distributors Stuntwood.