Terje – the worlds best lusekofta
In the current issue of Snowboarder you'll find an excellent interview with Terje Haakonsen. Over more than 10 pages you get to know the amazing snowboarder from Norway. Once he was most famous for the Haakon flip and for boycotting the Olympics. These days he is just simple an icon. His long term relationship with Burton has given us amazing boards such as T6, the Fish and the Malolo.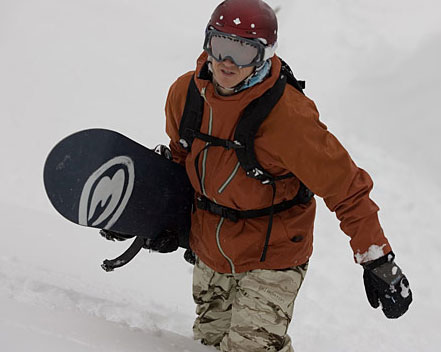 Terje – the best snowboarder in the world.
Terje tells it like it is. He complains about the capitalization of snowboarding and how Shaun White and riders such a like sell out. He even sounds a bit like Glen E Friedman when he once hated on Tony Hawk for selling out to McDonalds and a bunch of other multi national companies. The core is snowboarding (and in Mr Friedmans case skateboarding). That is something we should never forget.
In the same issue you get a really good interview with Natasza Zurek as well. She shares the same thoughts.
It's just too bad that ghetto shredder Jeremy Jones doesn't understand the dangers with global heating. Still in the same issue he and JP Walker sit down and have a talk. Jeremy Jones makes an idiot out of himself but he probably doesn't care.