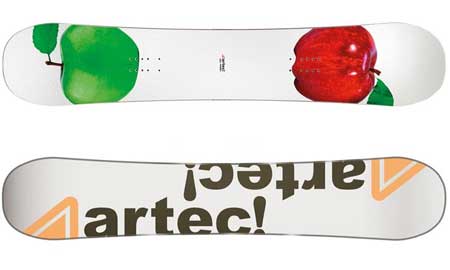 Artec Cipher is a true twin freestyle board. Made in Austria.
Snowboard: Artec Cipher 157
Setup: Union Contact bindings, 32 Leashed boots
Conditions: Hard packed snow, some powder.
Camber: Regular
Flex: Soft, really soft
Weight: Light
Size: 157
The Cipher from Artec is a fun board. It´s poppy and responsive. I´m actually surprised at how good it holds it together at higher speed. Even thou the board is both light and soft it´s stable enough for higher speeds. The Cipher is fun in the park, as good for stomping jumps as for safe landing.
After riding boards with magnetraction for the last couple of years, it´s a different feel going back to a more regular and traditional board. Riding groomers can sometimes be a pain. But the Cipher handles icy parts quite good. When it comes to powder conditions the Cipher have some problems. You have to go in to lean back all the way to keep the board up. But then again, this board is more fitted for the park.
The base is really good. It´s not as durable as the unbelievable bases from Signal, but still really good.