Review: Jones Snowboards The Flagship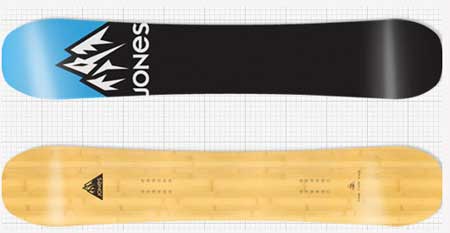 Snowboard: Jones Snowboards – The Flagship 160 .
Setup: Burton Cartel bindings, 32 Leashed boots.
Conditions: Hard packed snow, some powder. Big mountains.
Camber: Under the feet, rocker on tip and tail.
Flex: On the stiffer side.
Weight: Not as heavy as I expected. About average.
Size: 160
This snowboard is big. The first impression is that it´s quite wide and a bit heavy. But after just a moment or two you get used to it and just fall in love with the board. It´s powerful and yet forgiving. One of the best things with this board is how amazingly quick it turns. In comparison to the Malolo from Burton the Flagship is much more of a powermachine. It´s stable, built for speed and floats in both knee deep powder and harder snow. The surf feeling is one of the best abilities of this board.
For big mountains only?
The Flagship is stiff. But with that said I´m still suprised by how easy going it is. And I guess it has to do with the fact that the board is directional and so is the stiffness. The Flagship is still stiff enough to demand some good speed. With that said it´s not too fun trying to play around with on smaller slopes.
Being a stiff and directional board it still performs extremly well on jumps. It´s even rideable switch.
Quality control
The topsheet show marks from use after only a few hours. The bindings leave quite big marks on the board. It doesn´t really matter, and since the topsheet is made entirely out of wood the explanation is easy. Otherwise the board seems to handle anything I throw at it. But again I must say that it´s a pity that this beautiful board looks more beaten after 10 days of riding than my older Skate Banana after some 3 years of riding.
Conclusion
What really makes this board stick out is how fun it is to ride hard and fast. And it floats better than anything in powder. A great board I would recommend to anyone any day.