Review: Burton Malolo 08-09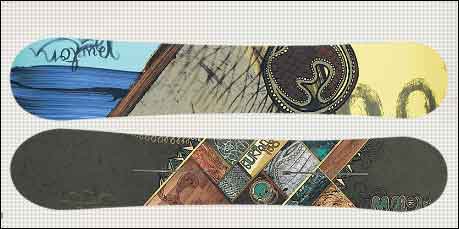 For the last 4 or 5 years I´ve imagined the Burton Malolo to be my favourite snowboard. Like my favourite snowboard ever. It´s a bit strange that I never during all these years have tried the board. Only dreamt about it. But finally – thanks to the good guys at OneOff I got the chance to take the Malolo for some turns. And it´s pretty much what I´ve always expected and dreamt it to be.
Snowboard: Burton Malolo 158
Setup: Burton Cartel bindings & 32 Leashed boots
Conditions: Slush, soft but grippy snow.
The Malolo is so much fun to ride. The setback is amazing and it makes the board easy to control, but at the same time a bit sketchy. With this board you need some space. Crowded slopes doesn´t really do it. You want to be able to make long turns and you want to go fast.
Riding switch is possible but no fun. Also doing small jumps feels a bit akward. But you do get an amazing surf feeling when riding the Malolo. And I´m sure that it do is my dream come true on bigger slopes. So I´ll probably go and buy this board pretty soon.
From what I´ve heard Burton is improving the Malolo for next year. It´s supposed to come with a rocker and some extra pow specific features. So I´m not sure if I should wait for next seasons model or not.