Jones Snowboards – The Hovercraft
Jeremy Jones new company – Jones Snowboards – with snowboards made by Nidecker looks really good. Just like when it comes to Yes Snowboards Nidecker seems to be good with letting the riders have control over the r&d.
This year there was a lot of buzz about Yes Snowboards. They were a bit tricky to find, but everyone who rode them seemed more than pleased. Our guess is that next year there will be a lot of talking about the freeride machines from Jones Snowboards. The pow board from Jones – The Hovercraft looks really…intense. We´re not sure how it will work on groomers thou. Similar snowboards such as the Fish from Burton works fine on groomers as well. But it´s a bit hard to ride aggressive with since it´s a bit too much of everything. Still it´s great when it comes to powder.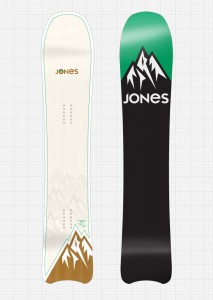 The Hovercraft from Jones Snowboards