Review: Union Contact bindings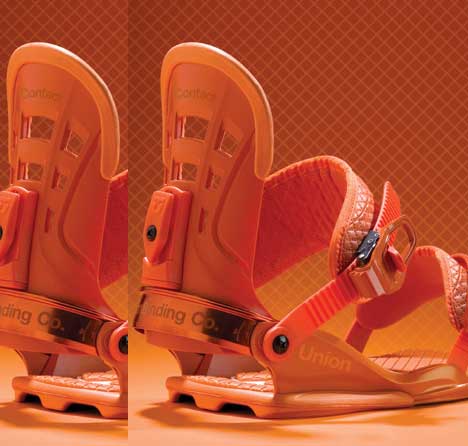 The Union Contact is a new freestyle orientated binding for 2008 2009.
The feel is a lot like the classic Force bindings. But I would say that the Union is even more comfy. The fit really well. I ride with Lashed from 32 and have no problems with the fit.
Sometimes I get the feeling that Union as well as Burton bindings are a bit smaller. While my Flux Super Titan feels big, roomy and very stable other bindings tend to feel more minimalistic. And that+s nothing bad. I just think that it takes some time to adjust to these differences.
The straps are way comfortable. And I never have any problems with pressure points on my feet. Again – I tend to fasten my Flux so hard that my feet are locked down. But with the Union bindings (both Force and Contact) I can strap in my boots much more loose. And still have a great feel.
I would definitly recommend these bindings to anyone who wants a soft and lightweight binding. They are great for all riding and have a nice price. Frankly I can´t say which ones I prefer – the Flux Super Titans or the Union Contacts. One thing I know is that I don´t like my Burton Cartel. So choosing between the Contact and the Cartel is a easy choice.