Words of wisdom: Shayboarder on rockers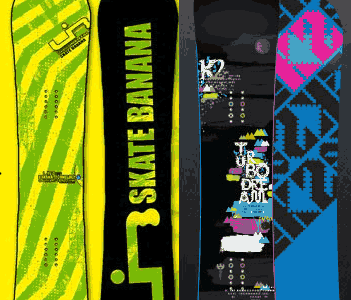 Skate Banana VS Turbo dream. And the winner is…
I´ve gotten some comments on my last post about which rocker snowboard to buy. After all excellent advices and comments I was still a bit confused. So I was really happy when Shay of Shayboarder.com – probably the best snowboarding blog on the Internet – came up with some some advices. Here what Shay has to say about the Lib tech Skate Banana VS K2 Turbo dream:
The big differences between the skate banana and the turbo dream are the edging, flex and where your weight can be. The Skate banana is the fun board, with the mtx on it gives you better control and edging on hardpacked and icy conditions (more contact points to grip the snow) and that's something the Turbo Dream doesn't have. The Turbo Dream is a stiffer than the Skate Banana but still in no way a stiff board, just a stiffer flex…it handles powder better.

The weight is the last difference, on the Turbo Dream because of the design you need to stay centered to have control over the board. When you shift your weight back on the Turbo Dream you start to lose control over your edges on groomers.

The Skate Banana with the mtx definitely grips better, has a more controlling edge and you can adjust your weight how you see fit. Personally for you, the Skate Banana sounds like the better choice, it is the fun board to play around with and with the Riders Choice it offers up a soft fun board to your stiffer freeride board.
Shay also has post excellent reviews of snowboards.