Big competition – win stuff from Appertiff!!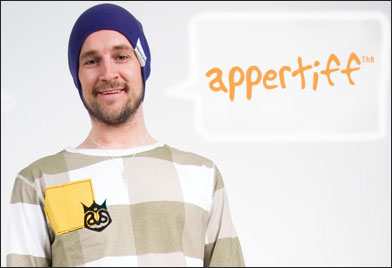 We are teaming up with the good people at Appertiff and give you the chance to win some cool stuff.
Not only can you get a extremly cool long sleeve t-shirt but also beanies in limited colours that are scheduled for the 08/09 season!
So this is a great chance to stay ahead of your time!
You can win…
1. Orange beanie + long sleeve t-shirt
2. Purple beanie + t-shirt
3. Black beanie
They say that everyone´s a winner.. But this time it´s almost true – 3 lucky persons get some cool stuff from Appertiff.
All you have to do is answer this simple question:
What kind of dog is it the Appertiff mascot?
Here is the dog – and all the Appertiff gear. Since no one really knows I guess that any answer is a good (and the right) answer…
Just state your answer along with name, full address and t-shirt size.
You have only until sunday 20 april to enter.