Float – a free all girl movie
Float – an all female snowboard film is here. And it's free. Just pick up this months right snowboard magazine… You'll find the movie in Onboard in Europe, Snowstyle in Japan. The list just goes on and on.
Unlike a lot of other movies I've seen this season this really makes me laugh and makes me wanna go snowboarding. A bit like Picture this and the Special Blend movie. They put the fun in snowboarding the same way that Storbis puts…something else in snowboarding.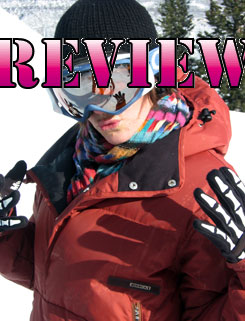 Laura Hadar tells it like it is in the best jacket some three seasons ago.
I can't really say what it is that makes me enjoy these so called "girl movies". Maybe it's the frequent giggle, the nice colour schemes (not too many black outfits) or maybe it's just the good riding. Also you can never go wrong with riders like Laura Hadar. Anyway this movie is at least as good as the ones from misschief.