Review: Capita Horrorscope FK 09-10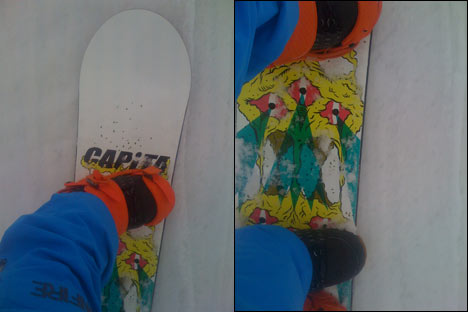 The Capita Horrorscope for next year is apparently about the same as for 08/09. The biggest difference is the number of boards for sale – for 09/10 Horrorscope is a proper release. The horrorscope is very much a board that is good for all slopes. Yes it has the freestyle touch, but it´s still very versatile.

Snowboard: Capita Horrorscope FK 155 – new length
Setup: Union Contact bindings & 32 Leashed boots
Conditions: Slush, soft but grippy snow.
From what I`ve heard the Horrorscope was supposed to be a super flexy kicker. But after riding all season on the Signal Park Rocker every other board feels stiff. So actually I was a bit dissapointed. the Horrorscope is soft, but not that soft and flexy. It actually is very stabile at higher speeds and it never loses an edge. And in my book that´s a good thing for a freestyle board.
What really struck me was the pop. The Horrorscope is so easy to pop around the whole mountain. Also the board is very stabile even with the rocker. Theer´s no problems leaning back and still keep control over the board.
The overall impression is that it´s a fun board. But it´s not as extrem – or extremly funny – as the Park Rocker. but on the other hand it isn´t as good for the whole mountain/all slopes as the Skate Banana. But still – if you´re looking for a fun freestyle snowboard it´s almost a must. The Horrorscopesort works really well as a complement to a more allround board.
Capita Horrorscope 08-09– there´s still no official info about next years release.