Billabong 07/08 Men's Outerwear Collection
Billabong have launched their 07/08 winter collection which can be seen on their website. With the new "Expression Series" you can create your own kind of design. The Tag Jacket comes with a black and white pen and you're supposed to make it look your own.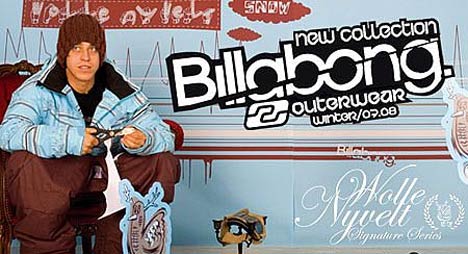 The "Signature Series" have the same concept as last season. Risto Mattila, Antti Autti, Wolle Nyvelt, Christophe Schmidt and Marius Otterstad have all collaborated with Billabong and come up with a different style.
Below are three of the five jackets from the signature series. The blue jacket to the left is called "Shomen" and is designed by Wolle Nywelt. The yellow one in the middle called "Sumo 1-2" is designed by Antti Autti and the one to the right is Risto Mattila's called "the AKA".